Simple Dialogue Systems in Google Sheets
Ever wanted to build a poor man's dialogue tree into a Google sheet? Well you came to the right place. This post shows how to do exactly that and then uses it as a quick little (and hopefully entertaining) puzzle. 
Google sheets (and docs and slides) can be useful tools when doing virtual roleplaying sessions. The sheets can be shared with players, who have to use their technical chops to interact with them and tease out clues. Players can follow links to new sheets, or gain information that can be useful elsewhere in the campaign.
This post focuses on WiFi Connect, a Google sheet I put together for a larger online activity. You can copy the Google sheet here.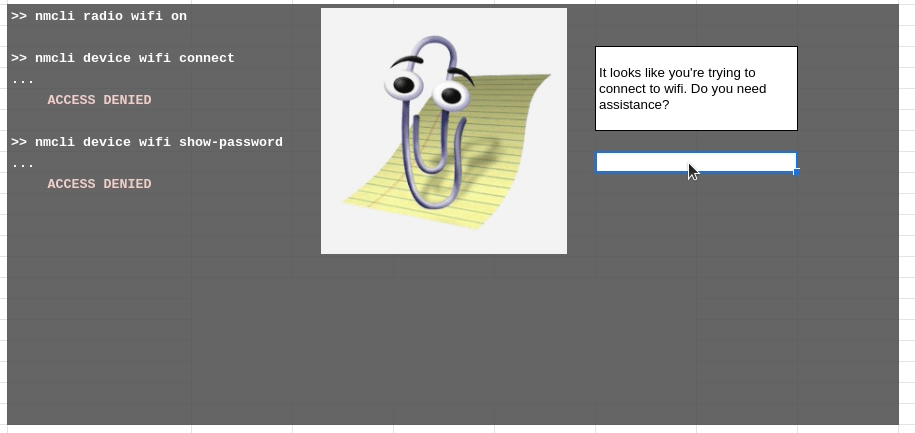 The sheet presents itself as a page with a happy little paperclip that is willing to help you connect to WiFi. There is a box into which the user can type. A cell gets updated below Clippy based on what is entered in the box.

In this example, the players need to connect to WiFi in order to proceed. The dialogue system takes what you pass in and performs a lookup to produce output. Players discover new possible inputs by interacting with the sheet.
The solution in this case is to connect to an unlisted network, "The promised LAN", which they discovered elsewhere in the gaming session. The password for that network is "DROP IT LIKE ITS HOTSPOT". If that is entered, the cell is updated with a hyperlink to the next thing.
Having a simple dialogue system is surprisingly entertaining. The players certainly appreciated it!
Under the Hood
The dialogue system has a hidden sheet in which the lookup happens. This is not a dialogue tree, which can store hidden state. Instead, it is a very simple dialogue lookup. The user's input is changed to upper case and then compared to a table of possible keys. If a key matches, then the corresponding output cell is presented to the player. As such, players can always jump straight to the end, if they happen to know what to type in.
The output achieves this with: `=VLOOKUP(TRUE, E1:F100, 2, FALSE)`. This means we are looking for a cell that is TRUE among those in column E, we return the value in the next column over, and we do not want an approximate match.

It is really easy to edit. You can easily change the look / feel of the first page to get an entirely different vibe. For example, you could be interacting with a demon, a shopkeeper, a logical guard, a sphinx, etc.

Hope this is useful!

Not Registered Yet? No problem.
Do you want Strolenati super powers? Registering. That's how you get super powers! These are just a couple powers you receive with more to come as you participate.
Upvote and give XP to encourage useful comments.
Work on submissions in private or flag them for assistance.
Earn XP and gain levels that give you more site abilities (super powers).
You should register. All your friends are doing it!
?

Responses (2)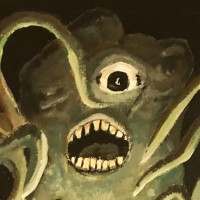 Oh, this is an awesome idea. Strolen - we may have a new submission type here! :P

A sweet play on the Riddle of the Sphinx. And anybody can appreciate the puns!!! Fun idea to put some interactivity into it. And as you shown, the hard part is coming up with your text adventure style series of Q&A. Really a brilliant idea to bring into the game!!!
" Sages and naturalists frown at the common name given to these strange creatures by the small folk, but sometimes the silliest nicknames for creatures, places and people persevere in the minds of many. 'Purifiers', 'Pond Jellies', 'Breath-Stealers', 'Lung-Ticklers' and 'River Butterflies' are much less commonly heard appellations for these life forms. Wet Faeries are basically (and simply) a species of fist-sized, fresh-water jellyfish. Several traits steer them toward the peculiar category however. Firstly, Wet Faeries are nearly invisible in the water, much like their marine cousins but even more so. One can swim in a river swarming with these critters and not even notice their presence. Secondly, they possess the unique ability to clean and purify whatever body of water they inhabit. They do this via some sort of biological filtration process, sucking in all toxins present in the water, and releasing it back in its purest form. Needless to say, they are both a blessing and a curse to whichever folk dwell beside the rivers and lakes Wet Faeries inhabit. On one hand, no purer water can be found anywhere than a Wet Faerie lake or pond, and yet, in 'pure' water 'life' tends in fact to die out, lacking the needed nutrients to prosper. Thirdly, their 'sting' is (unfortunately) virulently poisonous to all mammalians. Wet Faeries are loathe to sting anyone or anything, using their barbed fronds as a last line of defense, but if stung, most swimmers will suffer respiratory arrest, and die within minutes, usually drowning before they can make it back to shore. Alchemists, druids, and less savory characters have studied these creatures over the years, and have predictably found all the ways Wet Faeries could be exploited. Morbidly humorous, some bards find it, that the Poisoners and Assassins Guilds as well as the Healer's Union, all prize these creatures. The assassins use the extracted venom in obvious fashion, while the priests and healers use the still-living jelly-fish to sterilize other poison potions and to cure those already poisoned on death's door. It is known that a certain Earl Von Trumble keeps his vast castle moat stocked with Wet Faeries, the waters so clear that every bone of every one of his past enemies can be clearly seen on the bottom, twenty two feet below."
" What if potions and tonics had negative side effects? Potions of increased strength cause violent tempers, or damage joints. What if potions of dexterity caused tremors, or palsy? What if they were addictive, and had withdrawal symptoms? Could someone make a bad batch? No one use the brown strength potion!"
" The blood of a dragon is vital in the creation of potions of longevity. The liver could used to cure any disease or ailment, while the heart could restore a PC to full and complete health, despite their age, or injury."