Appearance:
A nagadalit appears like a large snake, typically sixteen to twenty feet in length with the head of a human male. They are almost always constrictor-type snakes, and never venomous.
Origins:
All nagadalits, or nagadalitii, were normal men once. They fell afoul of a being known as the Lamia Matriarch and were cursed by the powerful half-serpent sorceress. They lost their human form and became serpents but retained their heads, faces, and so forth. They retain their mental capacity and memories, but many are in poor mental shape having been reduced to predatory snakes, crushing and eating their prey whole, and being completely divorced from their old lives and privileges.

The Lamia Matriarch isn't one to dole out such a strong punishment to any man who appears before her. This curse is reserved for those men who are regarded as the lowest of the low. Nagadelits were all once rapists, thieves, betrayers of their own kind, and otherwise really just the worst sort. Once cursed, they are let free to do as they please.

Limitations, Abilities, and Shame:
A Nagadalit, as a base serpent, is automatically servile to even the weakest and lowest lamia, yuan-ti, or other snake-based races. They cannot conspire against them, cannot bring violence against them, and will do anything at the command of one. If a lamia ordered a nagadalit to consume itself until it died, it would. They will willingly serve and worship lamia and other such creatures out of the dire hope of having the curse removed. A nagadalit can still communicate with humans who speak their original language and can be recognized for who they were. The compulsion of servitude prevents them from leading their former comrades against the lamia sorceress that cursed them, though a few have tried.

Former heroes, villains, and adventurers who have been cursed this way can still use their class skills and abilities, assuming they have the ability to do so. This is highly limited, so only spells not requiring somantic or material components, or combat skills that don't require arms or legs can still be used. A rogue turned into a nagadalit could be very sneaky though.
The shame of a nagadalit is that their curse is named, and if someone asks what happened to them, they are bound to speak the truth of it, that the Lamia Matriarch or another lamia sorceress cursed them, and then relay the action the lamia accused them of. The servile nature of the curse tends to remove the ability of the nagadalit to evade or gloss over their actions, or even cast them in a more forgiving light.

Variants:
Two-Headed Nagadalits exist, and were typically brothers and cursed to become one extra-large two-headed nagadalit.

The rarest nagadalits were traitorous women who were cursed. They are technically and functionally identical to the male version, and they are cross-fertile, allowing them to breed more nagadalits. As they can only find reproductive pleasure this way and no other, these female nagadalits are hunted by the male versions, and there is a good deal of violence and attempted cannibalism in these confrontations.
Hydradalits are created from bands of soldiers, highwaymen, or other organized trespassers against a Lamia Matriarch. The resulting creature has a lizard-like body the size of a small horse, a number of heads equal to the number of people in the band captured, and retains many of their abilities. Such creatures are not allowed to roam free but are kept as guardians for the matriarch and can be formidable foes. They can still talk, and carry on conversations, but their body is a servant of the group gestalt and tightly bound to serve the matriarch that created them.
?
Scrasamax's Awards and Badges
Not Registered Yet? No problem.
Do you want Strolenati super powers? Registering. That's how you get super powers! These are just a couple powers you receive with more to come as you participate.
Upvote and give XP to encourage useful comments.
Work on submissions in private or flag them for assistance.
Earn XP and gain levels that give you more site abilities (super powers).
You should register. All your friends are doing it!
?

Responses (2)

Nagalicious.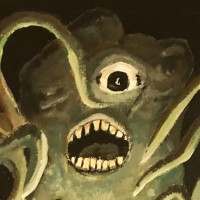 Excellent!
" For those familiar with cantrips, you know they are minor acts of magic that have hardly any noticable effect on the world. For example a cantrip to make your food taste better won't heal you any more, or be any more nourishing, just won't make it so hard to get it down. A light cantrip certainly won't be able to blind or even distract anybody, but you might be able flash it to signal someone looking at the right spot. What if children's nusery ryhmes were a form of cantrip? Like the 'Rain, Rain, go away, come again another day.' One child singing it wouldn't do more than spare her house a couple raindrops, but what if the whole village got together and was chanting in unison? Each one doing just a bit might actually be able to divert a whole storm..."
" Ten powerful magic rings created by an Archmage have scattered to ten random people (suggest only one is PC). This happened when he died in battle. Whoever gets all ten rings inherites all the power the Archmage invested to them over his 200 year life."
" Arune Spheres Arune Spheres are hollow, blue reflective metallic spheres about 25 cm/ 10' in diameter (though some are larger). They are made of a thickish glass mirrored on the inside. When magical energies are flowed through the sphere, it produces a haunting tone, which can be varied by the type, intensity, and harmonics of energies passed through it. (It sounds like an electronic organ.) If multiple energy flows are generated, multiple sounds can be generated, some of which sound like mundane instruments. Masters of The Craft can replicate almost any sound in their memory with one. Though originally used as a training tools for those with The Power, it has been adapted to be a musical instrument. All it takes is someone with patience, medative training, and a touch of the Power, to use it. (Thus becoming the favorite instrument of anyone who was tested to the first level of the Craft, but failed to advance)."