Laf-Laf
Orc male, 6'9' tall, 195lb, 16 year old Barbarian.
Description:
Laf-Laf was never the best Orc in his tribe. Always picked on and shunned like a leper, Laf-Laf took the behavior as a form of passage from pup to adult, even though the others his age were long past the hazing stage. To help the tribe to the best of his ability, Laf-Laf did a lot of the jobs no one else liked doing, like cleaning up after the various animals, patrolling at night, but his favorite job was getting the rats that would wonder in to the camp to eat the orcs food.
One particular day, the other orcs pushed Laf-Laf too far. In order to calm his rage he decided to hunt down a nest of particularly annoying rats. While out bashing rats heads in, an Elven scouting party discovered the camp and ambushed the unsuspecting camp. Laf-Laf hearing the commotion grabbed his catch of rats and proceeded to run back to the camp to help. Once he was close enough he saw a group of figures running towards him, in a fit of panic Laf-Laf took the rats by the tails and attacked the first figure that got close. With a solid hit, the figure was knocked square on his back where he was assaulted with a flailing of rats.
The next individual that approached had a sword drawn and pointy ears. After some strange talking, the sword was sheathed, and a rope was put around Laf-Laf's neck. After being led back to a small town where Laf-Laf was told he would be in the service of the Elf that captured him until he was deemed able to live among people socially.
Laf-Laf thought about it for a minute. No mean Orcs to bully him or boss him around. Good food instead of maggoty food, comfy sleeping location. Laf-Laf took a deep breath and asked the Elf,
' Cans I stills whack rats? Laf-Laf hats the sqweeaky pists!'
Arken
Garuda-blooded Aasimar male, 5'11' tall, 145lb, 75 year old Inquisitor.
Description:
Arken has never been content to accept the world for what it is. He hates evil and would do anything necessary to tip the scales in the favor of good. That doesn't mean that he is strict in her moral code, he is acutely aware in the strengths of extremes and is willing to go to some unconventional means in the pursuit of the greater good.
His appearance has always set him apart and he is well aware of how judgmental and cruel the world can be. Although he home life has always been influenced by the presence of war by Gnolls and Orcs, his ridicule at the hands of the ignorant has helped mitigate his prejudgments based on appearance. This doesn't mean he wont jump at the chance to smite the evil or corrupt; he would rather apologize rather than have missed a chance.
Attesting to a good religion, Arken makes it him mission to spread the word of Desma like the wind and defend the weak as far as he can.
Adonia
Azata-blooded Aasimar male, 5'10' tall, 150lb, 45 year old Knife Master.
Description:
Being born to a family of humans, Adonia always felt different from those around her. Possessing striking features and a strong force of personality, he has always felt from an early age that he was destined for greatness. Hailing from a land that celebrates personal freedom of its citizens, Adonia finds the individual powers to influence the world around her as a key tenant of his way of life.
Not content to live an 'ordinary' life, Adonia travels the world to seek adventure and to test herself against the world's challenges. Always happy to meet new people and enjoying the prospect of offering a hand to help others, he finds himself taking some time to see the sites at a festival...
Not Registered Yet? No problem.
Do you want Strolenati super powers? Registering. That's how you get super powers! These are just a couple powers you receive with more to come as you participate.
Upvote and give XP to encourage useful comments.
Work on submissions in private or flag them for assistance.
Earn XP and gain levels that give you more site abilities (super powers).
You should register. All your friends are doing it!
?

Responses (1)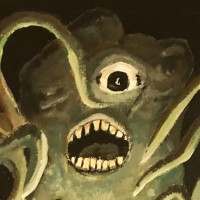 The orc is the most interesting of the lot - the other two are rather forgettable. I haven't seen too many orcs become enslaved, and it does turn the whole 'my village was destroyed by orcs' cliche around a little.
Language is a little weird - you have their genders switch in the same sentence -
'That doesn't mean that he is strict in her moral code...
" The Party has been travelling for two days and havent spotted a thing,suddenly out on the horizon five riders appear,when they get close the group identifies them as orces,the leader is a mean looking one with many scars suddenly he raises his spear."
" 'The world has an immovable dark red sun in the centre of the sky that produces very little light. The heat is totally unbearable and the aroma of delicious cooking meat is in the air. To look around it appears as though you are surrounded by giant black mountains with no vegetation anywhere. The ground is soft and an oily liquid flows into your footprints. Travelling reveals nothing else.' Any character without some resistance to fire or heat is slowly being cooked. The ground if you haven't guessed it is the cooked meat. I've wanted this world to be part of a dimensional hopping 'chase'. I thought maybe to populate this world with giant carnivorous beetles or perhaps this could be a 'Nirvana' for deceased or living (but dimension travelling) fire dragons. Perhaps I've just been grilling a little too much meat or perhaps there are some great ideas out there on how to spruce up the place. Any suggestions?"
" In a savage area, the bodies of the dead are cremated, and their ashes are placed in a hollowed out pod like a gourd or a coconout and tossed into a river to bring good luck to the tribe."