Cryptic Language - Tolkien Hobbit Runes
Dwarven runes are (mostly) an alphabetic substitution cipher on the Futhark runes. An oldie but goodie from Tolkien!
Dwarven Cirth from The Hobbit
Note: Angelfire gives a good overview here.
Readers of The Hobbit will remember the dwarven runes that occur in several locations of the book, perhaps most prominently on Thorin's Map: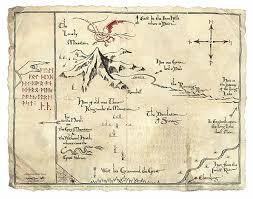 The map includes some neat drawings and English annotations, but there are red runes on the compass rose, underneath the pointing finger, and a long script hidden in the form of moon letters. In the story these are translated by Elrond, Lord of Rivendell. What isn't mentioned is that the runes, in fact the entire alphabet used in the book, are a substitution cipher!
For starters, observe the compass rose. From it we can infer the runes for N/E/S/W. It turns out left is north in Thorin's map, and the runes are one-to-one letter translations.
Translating the rest of the text is easy. There are several rune examples in the book and many of their translations are given too. In general, one can solve these things by piecing together simple words like 'the', 'a', 'I' and moving from there.
The Tolkien substitution scheme is given below.

There is no Q. One uses CW instead. For a complete discussion, see the Wikipedia entry on Cirth.

What I like about the Tolkien Dwarven Cipher

The Tolkien dwarven cipher is an excellent example of a hidden puzzle. At no point is the reader told they have to translate this text. The runes are all over the place, even showing up in plot-centric locations, but never as an in-your-face this-clearly-is-a-puzzle sort of way.
Decorative and subtle use allows for a non-invasive puzzle that satisfies those keen players who are itching to solve something without taking up the other players' time.
I also appreciate the difficulty of the puzzle. Substitution ciphers are some of the easiest ciphers to break, making them approachable for most every player. Plus, the dual-word substitutions and representation of I and J with the same rune (something commonly done, such as the two-square cipher) makes solving it non-trivial and i.m.o. more satisfying.
Tolkien has provided a neat Easter egg that we can draw inspiration from.
A Further Note on Tolkien Languages
Tolkien was into linguistics and created a ton of languages, including all sorts of variations of elvish, orcish, black speech, etc. While the others are much more complicated, and are not merely substitutions on English, they can be used to give your game a neat flair. I do not recommend using them as puzzles for your players, but hey, whatever floats your boat (or your players').
Not Registered Yet? No problem.
Do you want Strolenati super powers? Registering. That's how you get super powers! These are just a couple powers you receive with more to come as you participate.
Upvote and give XP to encourage useful comments.
Work on submissions in private or flag them for assistance.
Earn XP and gain levels that give you more site abilities (super powers).
You should register. All your friends are doing it!
?

Responses (6)

My first post that is not my own work. I figure the Citadel is a great place to bring in all sorts of useful info even if we ourselves didn't make it.
I included references and appropriate links.
Please let me know if this sort of post is wrong and I can remove it.
I am not really sure where to put this post. It is kind of a puzzle but also kind of an informative DMing post. Again, let me know if you recommend putting it elsewhere.
---

I think it's fine either as an article as is or as a puzzle like all the other puzzles you posted (although I personally prefer this as an article I think, it doesn't seem to me to have enough meats on the bone to really qualify as a good puzzle like your others) As for writing a sub that's not all original work, I think it's okay as long as you quote your sources (I do that all the time cos I've got a fantasy ancient China setting). I mean, it's not like you claim what Tolkien had done as your own, you made it all clear that this is your thoughts on how an element from Tolkien could be used in game play. Moon Hunter also tends to write articles all about bringing real life inspirations into gaming such as unconventional weapons, history etc.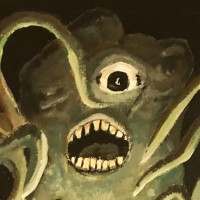 To clarify, what specifically do you mean by this not being your own work?
So long as the text is yours and you attribute your sources, you should be good.
---

Just that I am not Tolkien. I wrote the text.
All seems good then.
Thanks!

Nerd alert. In high school I had a study hour so decided to reread LotR again. Another person there was doing the same thing. So over the course of the semester we memorized the ruins and were able to write runes as letters and translate them on the fly without a key. We didn't use any of the combined letters, just straight letters. So I like that this is put together so simply and well to just grab. It was in the appendix of the version I had.

Re-uploaded images. Apparently they had been lost.
" I once read a book about a group of people who discovered a hidden temple city in a mountain range, where the Incas-the ancient civilisation of Peru- had fled to when the spanish invaded. When this group found the burial chamber of one of the inca high priests, they unleashed a powerful curse upon them all..."
" The apples of a certain tree, when allowed to dry on their own, all have the appearance of shriveled human skulls."
" Pepperbox Wand A typical wand with offensive capabilities (magic missiles, fire, fireball, lightning bolt) that was either damaged in combat or made just under par. When the wand is discharged, there is a 1 in 4 chance that it fires an additional 1d6 charges simultaneously or in rapid succession. Wands that shoot fire may incinerate innocents and friendlies, or burn whole buildings and even villages down. Those which shoot fireballs have a considerable radius, and lightning bolts that bounce upon contact with ground and stone can cause catastrophic random collateral damage. Those who have paid large sums for such a device may go seeking a refund, possibly even retribution."