Chainmail of the song
This chainmail shirt would be usefull to anyone who would use music to weave magic. However, there is a catch...
There was once a group of minstrels, who weaved their magic through their music. These particular bards were adventurers, exploring the land, fighting evil with their skills, inspiring courage with music and tales of glory, and sneaking and using stealth, just as good as any rouge. Well, actually, they weren't that good.
But as they went about thier tasks, their chainmail was a problem. It clanked and clinked and clanked some more and caused a lot of trouble to them. So together they found the right metals, tough yet soft, forged them together, into the right shapes so that they would come together without sound. And they enchanted the armour, to not burden them as normal chainmail would. But alas, they could not do so. The bardic minstrels paid a large fortune to a mighty wizards, and in return he cast his many spells, cantrips, enchantments and rituals. Eventually the chainmail was perfect. It shone green, blue, purple and yellow, and many other colours, and it was as light as leather. And most importantly, it made no sound.
The minstrels were very happy about this, but they never quite realized the main faults until many years later. The wizard that cast the spells was a slacker. He imprisoned the souls of evil spirits, and used their energy to cast his enchantments. So the souls of the evil spirits held the magic of this armour, what if they were to become angry, upset, or naturally, just evil.


Magical Properties:

This armour funtions like normal chainmail, but it is as light as leather armour, and makes no sound. If a bard wished to move silently, he would suffer no penalties. Also, magical bells cover this armour, which, on command will tinkle together and create a beautiful sound. However, at any time, any circumstance, the evil spirits bound in the magic of this chainmail can awaken and cause catostrophic things to happen.
Not Registered Yet? No problem.
Do you want Strolenati super powers? Registering. That's how you get super powers! These are just a couple powers you receive with more to come as you participate.
Upvote and give XP to encourage useful comments.
Work on submissions in private or flag them for assistance.
Earn XP and gain levels that give you more site abilities (super powers).
You should register. All your friends are doing it!
?

Responses (7)

Catastrophic things... like what?
It could really need at least a few examples of what happens, and of what magnitude the catastrophe will be (something bad for the wearer, or for the entire world?), and when do the spirits activate.
And I find that bit about the lazy wizard and evil spirits a bit unclear. Did he choose specifically evil spirits to 'make them useful'? Or were they not evil at all, but are now quite deranged?
What if they only sing their own song, a desperate tune of souls trapped, that could drive mortals crazy if listened to for too long? This should not be simply another power the wearer can switch on and plug his ears. Maybe, another song could make them asleep again, for a while. Just get it off in time...
---

turn the wearer into a hideos monster kill him suck his soul out and make him kill his loved ones

It's a very good start, but it needs more details :-)

I think he ment Catastrophic to the wearer not to the surrounding area.
This is a very sup par submission in my opinion. I gave it a 1.0 because it had some thought behind it, although it is very drab and does not flow. There is a partial backstory and purpose for the item. I also gave it a .5 for the attempt at making it a duality type item. It has benefits yet also has a side effect. I would have given more if it was fleshed out more and didn't read like it does. I had to read it three times to make sure I understood what it was saying. It's difficult to follow for me.
All in al la decent start, but it could be WAY better.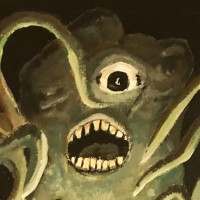 I kind of like it, rough as it is.
" In the town of Eon, children are born without names. They must earn a name by doing someting great before age twelve or they are banished from Eon"
" The population of a forested kingdom never reveal their names to any but their immediate family, and consider it a grave mistake when others do so."
" If a fighter has a +1 sword that only gives that plus one if he does an exhausting practice routine in the morning, he's liable to ditch the magic sword and just use an old fashioned chunk of steel. Rather than being wore out and need to rest a couple hours before he gets started just in case he needs that plus one, he could just strap on a blade and ride off without having to deal with all the issues. (From Something Agar said)"