Biomorphosis
Biomorphosis is a very rare parapsychic manifestation that allows for it's practitioners to alter their physical form.
Biomorphosis is not new, and is actually quite old and well known. It is also almost exclusively the realm of dark fantasy and fiction. The anecdotes of the werewolf or the wolfman are the handed down folk legends of ancient biomorphs. Parapsychics have existed for a very long time, but have only appeared in any measurable number in the Cosmic Era.

The Big Secret

Biomorphosis is a branch of the 'Body' realm of parapsychic ability and is related to healing, physical augmentation, and biomanipulation expressions like pheromone production, or biopneumatics (altering the size of body parts without largely changing their structure). This renders biomorphosis being in the most common manifestation of parapsychic powers.

The manifestion of biomorphosis starts early and is easy to recognize. Biomorphs tend to develop incomplete transformations and altered behavior as their powers emerge. It is very rare for a biomorph to fully erupt into their alternate form. This makes it easy for monitors to find biomorphs while they are still weak and not in control of their powers, and to handle them as case warrants.

The Truth

The powers that be in the CE distrust biomorphs and hunt them down. The majority are nerve stapled and drugged, and those that prove resistant or are regenerators are exterminated.

The Biomorph is a natural shapeshifter, and this isn't just physical, it includes their mindsets, their appearance, their spirit, everything. This makes them very hard to control, and resistant to things like indoctrination or mind control. This goes against the interests of the power brokers, an uncontrollable asset is as bad as an enemy or rival to those who are obsessed with control.

Continued Truth

There is a second reason that biomorphs are carefully controlled. During dimensional fatigue events, the plastic nature of biomorph biology actively works against them. Their powers tend to be amplified, and their alternate forms become stronger, more atavistic, and their control over them degrades. Biomorphs are also prone to contamination and outsider influence. Even if a biomorph seemingly escapes a DFE unscathed, there is no way to tell if they picked up a biomorphic parasite or infestation along the way. Such things can lurk for weeks or even years before emerging as frightening threats to humanity.

The chance of a biomorph becoming a carrier for something like a nihilid or plasmid lifeforms is generally considered justification for the inhumane treatment of potential biomorph parapsychics.

Not Registered Yet? No problem.
Do you want Strolenati super powers? Registering. That's how you get super powers! These are just a couple powers you receive with more to come as you participate.
Upvote and give XP to encourage useful comments.
Work on submissions in private or flag them for assistance.
Earn XP and gain levels that give you more site abilities (super powers).
You should register. All your friends are doing it!
?

Responses (1)-1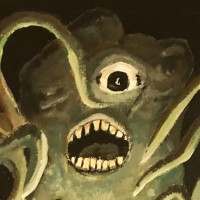 Akira!
" The PCs are making their way from village to village across a rural hinterland, when they spot a weird sign along a farmstead's fence, with an arrow pointing to the actual farmstead. 'CRAZY DANCING HOES!!' If they investigate, a rather sedate local farmer, explains to them that for a mere two coppers, they can witness the show for themselves. The show involves six ordinary, animated hoes 'dancing' on a makeshift stage, as the farmer accompanies them by slapping his thighs to keep the beat, and playing on his flute. If asked how the trick is accomplished the farmer demurs, not wanting to share his 'secret'. 'If you can get Old Man Purkiss to tell you how he gets his cows to spout poetry, I'll tell you how I make my hoes dance.' In reality, this minor encounter can lead to the PCs discovering that some localized, magical effect is active in the area. All kinds weird phenomena seem to occur in these parts. Perhaps the PCs have finally found the ley-line of mana energy that they have been searching for! The party's wizard gets excited."
" An orc male who dislikes the hard warrior life, has disguised himself as an orc female and is learning how to become a Shaman. If uncovered as a male, his fellow orcs will be disgusted enough to kill him."
" One of the PCs comes across a magical ring that grants some power but has odd aura as if cursed. Yet this curse is different than the standard curse. When the PC puts on the ring he/she suddenly feels married. There is now an illusionary woman, who he/she cares deeply for but who is also always very critical of the PC. The wife is demanding of attention and constantly giving the PC directions. The PC wearing the ring is the only one that can see and hear the bride. The curse can never completely be lifted. Even if the PC takes off the ring and somebody else puts the ring on; the PC will still be visited by the ex-wife at least once a month. During this visit she will demand money and apologies."