Beligitor
All that was left on the battlefield that day was a worn rusty sword, with BELIGITOR etched in the Blade.
A blacksmith toils day in and day out, working on a blade fit for a king. The king in fact seeked a glorious sword to lead his army against the evil wizard Malick. Malick had plagued the land for many years and left the people of the land in fear of everything. The king, Vansfield hoped that the glory of the sword would help bring the people out of their fear and draw them to fight for this most just cause. Setting out on his journey he took the sword out at every town seeking any who would aid his cause.
Not far into his journey he had found several people for his army, but waiting for him on the path to the next town was Malick.
'That sword will not stop me Vansfield. I will continue my rule.' Malick stated. He then chanted 'Aloois Dey Carttei' castting down the sword and turning it into a rusty, worn and broken sword.
Feeling failed and down hearted Vansfield dropped to his knees upon the sword cursing Malick every breath. He picked up the sword, and ran at Malick, anger and fear filling him. The spell seeming unfinished wraped itself around Vansfield flowing threw his veins litteraly seeing the true purpose he had for the sword it reformed itself making the sword reform into the glorious state it once had. Startled at his failed attepmt to destroy the hopes of the people once again, Malick stared onward as Vansfield rose to strike him with the blade.
Then their was a clash. Malick recovered from the stun and had drew his blade, blocking the attack.
Meanwhile Beligitor the master of speed was walking through the area. seeing the clash of the two and sensing the intensions of both warriors he stopped and focused on the battle. Knowing what the blades could do if alowed to remain apart he sacrificed himself to trap the two blades himself and the warriors in one blade. All that was left on the battlefield that day was a worn rusty sword, with BELIGITOR etched in the Blade.

Magical Properties:

Gives the User or Wielder enhanced speed, and reflexes making anyone facing them appear slower and less acurate.
Just like when wielded against Malick the blade will once again take on the glorius state when wielded by a warrior with intentions of forcing out evil.
When used in any other way it takes the appearance of a black blade with dragon claws at the hilt.
Malicks blade drew energy from its victims, and Malick so longs to free himself from the steel prison so the new blade Belligitor draws energy from the user to aid Malick.
Beligitor however is working to counter this action by makeing the sword start to bond with the wielder. This weakens the ability of the drain, though should the wielder die, he will however be fully absorbed by Malick, and their is no greater energy, than spirit energy, for Malick.
Not Registered Yet? No problem.
Do you want Strolenati super powers? Registering. That's how you get super powers! These are just a couple powers you receive with more to come as you participate.
Upvote and give XP to encourage useful comments.
Work on submissions in private or flag them for assistance.
Earn XP and gain levels that give you more site abilities (super powers).
You should register. All your friends are doing it!
?

Responses (12)

let me know what you think.
~~

Well.
First off, please, please capitalize your sentences. Please. It makes it so much easier for people to tell where they begin or end, which in turn makes for an easier read. A teeny little spell-check wouldn't hurt either.
Second, the premise is acceptable, but at the moment it's rather short. A background would help. Who made it? When? Why? Who wielded it? When? Why? Who cursed it? etc., etc. A good backstory makes any item worthwhile.
I'm not gonna vote yet, that wouldn't be fair to you. If you flesh it out and put capitals in your sentences, I'll give you a vote.

An interesting idea. I feel like making an item of this type with a proper background and backstory.I won't vote unless it is fleshed out.

I sort of disagree.
I think that it is, to some extent, a good idea- it boosts the user's speed, but they use proportionally more energy.
But my first objection to this sword is that it has no history. Where did it come from? Why is it called 'Beligitor'? Why does it have its power?
Second, the various magic things about the sword- the speed power, the rusty/shiny appearance, and the 'bonding' with the user, all seem rather tacked together. There's no inner order to the thing- why would the change in appearance go with the speed enhancement? I know it doesn't seem like a big deal, but for some reason it irks me in this item.
Third, the grammar is rather mediocre. Might want to work on that, this is like 5th grade or 6th grade writing here.
I forgot the 4th reason. :)
Oh, and I'm not withholding my vote. I don't do that. For you I say...
2/5.

I concur with the penguin, it seems tacked together. It seems almost unswordlike to alter someone's metabolism -- even magically, that would be more characteristic of an amulet or something (or even better, a potion).
And I'm also curious as to the etymology of 'beligitor.' I'm all for obscure permutations of words as names, but I don't get this one.
The food thing, although quirky, isn't going to be real drawback. Any party worthy of such a powerful sword ought not to have any food problems.
The whole sword-boasting thing smells of my Cathexis, btw. But I'm glad that it was such a seminal post.

I redid the weapon somewhat and am awaiting the results. I apoligize if their are any 'miss-spellings' or 'gammar' issues but no one is perfect. I really thank you for the critism and want to learn more about making items and other things for this site, so let me know if I can change anything else about my style. Thanks.
~~

Re-do looks much better. Nice story -- overwrought, to be sure, but cool. Just watch the run-on sentences.

Alrighty. You've put some effort into it now. Now it gets a vote.
You've still got a few spelling errors in there and a couple of run-on sentences, but I thank you profusely for fixing the capitals in the sentences. That's one extra point.
The backstory is good. It gives a reason for the sword's forging, and a reason for the sword's cursing. You definitely improved, and that's worth another point.
So, over all, I classify it as an Alright Idea. 3/5.

I thank you.
Even though it is a 3/5, it gives me a base to work on.
I am working on Malick, Vansfield, and Beligitior(the person), and a plot for this to so you knowv things happen.
~~

I think there is a good idea. The first half of the post had me going but then the details got confused a little and it seemed a bit rushed. If you took your time with it and let it fill itself out by just telling the story of it then this would be a pretty good post. It has some good dynamics that seemed to disappear half way through.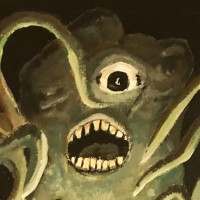 Interestingly, it has the feel of the really old Arthur tales, both good and bad, light on the whys. Some of the things Merlin did not seem to make sense with what was described in the tale.
So, it was a nice sword that resisted being turned to junk by the Wizard, and then to stop the battle (since it would I guess cause lots of collateral damage?) this third party sucked himself, the knight and the evil wizard into the blade?
Now the blade will draw energy to the trapped Evil Wizard, while the 'good' wizard will try and stop this by strengthening the wielder's tie to the weapon?
" Forsht Bligo is a dwarf who loves the taste of blood. He's become quite the connoisseur over the years. Pigs blood, sheeps blood, cow's blood, if it's red and warm, Forsht considers it a delicacy. The fresher and hotter the better. Forsht will often sneak up on cattle, prick them with his dagger, and catch the flowing blood in his orc-skull drinking cup. His life goal is to taste the blood of every living animal. Although he has not yet sampled humanoid blood, he is not averse to doing so if the right opportunity presents itself. He is not particularly unpleasant if approached and can be easily befriended. Its just that he simply can't get enough of the 'Juice of Life', as he calls it. Forsht's troubles come in the form of frightened and angry villagers who have proclaimed the misunderstood dwarf a vampire. Since Forsht is amused by this, he does little to dissuade anyone. This will lead to some dicey situations for Forsht in the near future."
" Elven Light Horse - a lithe and small animal well suited to the forest home of the elves. It has semi-cloven hooves, a longer tail, like that common to unicorn illustrations, and always a snow white pelt. Lives inthe forest, able to stand on back legs to crop leaves from the lower branches of trees. Shy and easily frightened, but at peace when around elves."
" A massive iron key - 2' length, 20lbs forged from the bones and horns of demon-lords. When used with a massive portal - carefully built according to documents found in powerful books of evil knowledge, it will open into the realm of demons and allow them to flood into the world. The applications of this item for villains are obvious. Mortals touching this item directly will suffer very dire consequences."