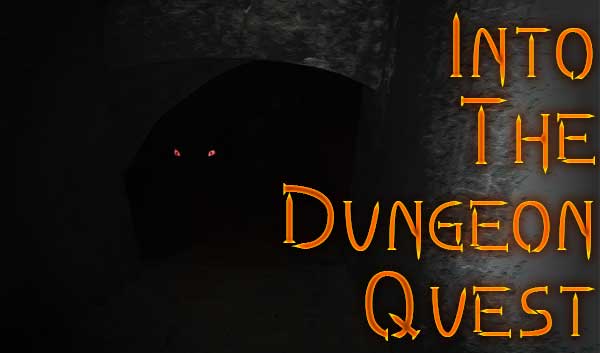 | | |
| --- | --- |
| Required Category | Dungeons |
| Required Tag | none |
| Status | Legacy |
| XP Bonus - Active | 10xp |
| XP Bonus - Legacy | 35xp |
| XP Bonus - First | 100xp |
| XP Bonus - Second | 0xp |
Quest - Into the Dungeon
It's Quest time once again!
This time, we want Dungeon submissions. Anything that would fall into the Dungeon category counts.
You get a bonus 10 XP for Quest submissions. What are you waiting for? Create Dungeon bits! Do it now!
The winners of the Dungeon Quest will be the first Citadellians to receive Strolen.Com T-Shirts!!
---
Quest Winners
Name
Title
Type
XP
CaptainPenguin
The Mountain of Boats
by: CaptainPenguin


Trapped forever in the grip of the Sea of Jade, paralyzed by the Great Curse, the Fleet of Nazran has become a hellish prison of eternal torment, and the tomb of adventurers from across the Earth.

Dungeons
Desert
Rooms/ Halls
890xp
Scrasamax
The Noil Ruins
by: Scrasamax


From a low hillock in a vast plain, the entrance to the Noil Ruins is as unobtrusive as it is a gateway to wonder...

Dungeons
Plains
Style
467xp
Official Submissions 15
Name
Title
Type
XP
Scrasamax
Dungeon National Park
by: Scrasamax


Enacted roughly 4 years ago, the Dungeon Preservation act sought to map out and better understand the dungeon ecosystem, and to protect it.

Department of Dungeon Preservation

Dungeons
Any
Style
245
Iain
Tower of Inversion
by: Iain


The dread Tower of Inversion, lair of the vile lich Zarakoth Xorast, contains five layers, each containing different tools of dark magic.

Dungeons
Underground
Rooms/ Halls
270
MoonHunter
Pegoran Doors
by: MoonHunter


"The Pegoran saw the circle as the link between this world and the next," the mage said. Before he could pontificate further, "So the door rolled in Raygar to send him to the next?" the rogue blathered, "What a mad peoples!"

Dungeons
Any
Doors
250
MoonHunter
An ecological dungeon 3: Spirits and Unliving
by: MoonHunter


As with any eco system, there is a pattern of life and death. Unfortunately when there is death, there is often trapped emotions, suffering, and other things that 'complicate' the process of transition. Add to this mix the presence of magic and gods and the chances of complications multiply. These complications are known to the mortals as Ghosts, Spectres, and various forms of material Undead.

Dungeons
Any
Ecology
135
MoonHunter
Barrows of The First Men
by: MoonHunter


The First Men buried their Kings and 'Big People' (Nobles and other Important people) in underhills - tombs made under hills of earth called Barrows. While this custom seems quite common, the First Men were not. The First Men were closer to The Mythics - The Shidhe (Elves) and Dwarves - and The True Dreaming Magics than Modern Men. Thus entering their barrows means you are entering a different world and time.

Dungeons
Any
Style
180
Incarnadine
Malicious Archeology
by: Incarnadine


Sometimes a painting is just a painting.

This is not one of those times.

Dungeons
Underground
Rooms/ Halls
395
Scrasamax
The Great Barrow
by: Scrasamax


The Repository of the victorious dead...

Dungeons
Plains
Rooms/ Halls
185
Siren no Orakio
Caern of the Steam Bringers
by: Siren no Orakio


A long forgotten city, with surprising inhabitants.

Dungeons
Underground
Style
155
MoonHunter
The Littered Halls
by: MoonHunter


You follow the map your purchased. It is to lead to the lair of Tergars the Dark. You follow through the woods, and find the rocks that lead into the hillside. The troupe creeps inside. Inside you find burned out candles, recent trash, and a few broken kegs. It is not Orc remains... there are funny and obscene things written on the walls with charcoal written in the local tongue. It is strange... unless....

Dungeons
Any
Rooms/ Halls
175
Siren no Orakio
The Altar of the Sun
by: Siren no Orakio


A single room in the lair of those cast away by the gods, this place of worship is nothing the adventurers are likely to expect here.

Dungeons
Underground
Rooms/ Halls
85
Strolen
Torrent Falls
by: Strolen


Hidden above an alcove behind a forgotten waterfall could be one of the last intact temples of a long persecuted religious order dedicated to the worship of their water elemental patron.

Dungeons
Water
Style
145
Maggot
Mugama, The Gold That Is Not
by: Maggot


Nestled between the towering cliffs of the Zorian plateau, lies a vast cavity that is wide enough to swallow an adult bull elephant with enough space to spare for a small herd of draft horses on either side. There you will find gold, an abundance of it. But what is that you say? That the natives tell you that it is a place of death and home to hideous monster that will devour you? Ignore the savages. They only seek to protect what they are too indolent to grab for themselves.

-A Khanate offical assuring a bunch of miners.

Dungeons
Desert
Ecology
285
Ancient Gamer
Crawlers of the Dark
by: Ancient Gamer


In the dark alleys of Malcaresh, the Caravan City of the Plains, many an adventurer meets his death at the end of an unseen blade. Even more part unwillingly with their belongings, having fallen victim to the thieves and cutthroats plying their old and ignoble trade. Yet even among these, the whispers of House Caraguil invoke fear and discomfort.

Dungeons
Underground
Rooms/ Halls
595
CaptainPenguin
House of the White Apes
by: CaptainPenguin


Deep in Sorilyeshcu, the Cloud Jungle of Ozhun, an evil clan of white apes keeps a malign secret.

Dungeons
Forest/ Jungle
Rooms/ Halls
175
MoonHunter
The Red Ghost and the Crypt of the Ebony Princess
by: MoonHunter


One of the most popular "Quests" in Dream Park for the 2071-72 season, The Red Ghost and the Crypt of the Ebony Princess has been made into a novel (by Elsmyth himself), a full theatre video, expanded into a broadcast series, and a lack luster home game. It is considered Elsmyth's finest work before his nervous breakdown.

Dungeons
Underground
Style
95
Quest Submissions 1
Name
Title
Type
XP
Moonlake
Tangrams (or Seven Piece Puzzles)
by: Moonlake


A shape assembly puzzle that can be inserted into any cask/door/wall in a dungeon

Dungeons
Any
Puzzles
205xp