The Uuluun
Swimming with the Great Western Tide that sweeps towards Tarrod from the far west of the Ocean, the mighty and enigmatic Uuluun sing songs that speak of the unfathomable gods of the deep, and wrestle each other in seabed-shaking contests of strength and martial skill.


Physical Appearance
Uuluun average about 20 feet (about 6 meters) in length, with a tail of about the same length. They have very wide chests and shoulders, while their hips are relatively narrow in comparison; their necks are about 6 feet of their body length, and are topped with a long-snouted, dragonesque head with curling black horns that spiral away from the head. The chin, jawline, and eyebrows are spiny ridges. The jaw is filled with razor-sharp, crocodilian teeth of the same glittering black bone as their horns. The claws of their four-fingered, webbed hands, and long-toed, fin-like feet are also of this bone. Their skin is leathery, not scaled, but their underbellies and pectoral muscles are made from hard, shield-like cartilage. Their long tails end in a burst of spines. Periodically along the tail and at the shoulders, there are pairs of smallish, spiny fins. Overall, they give the impression of a snaky, wingless dragon that is streamlined for underwater travel. Uuluun live most of their lives underwater. They breed, are born, and die in the water, and the sea is their only true home. However, they do have the ability to breathe air for a limited period- two hours at most.
Sages of the Deep
Uuluun are a mysterious people, vastly intelligent and cultured, especially in comparison to the barbaric inhabitants of Tarrod. They originate in the far west, in the Ocean, in a place they refer to as Hluufwuuuoh, 'Far-Away Home', which every Uuluun is born in, but which they return to only at the middle of their 300-year-long life cycle, to breed, and at the end, to die. They live in migratory clans of 4-5 mated pairs, plus young, who follow the great currents and fish-paths across the seabed to who knows where. Some of these clans come to Tarrod, or come close, in the very least. The western coast, especially in southwest, bears much evidence of the Uuluun- thought-provoking sculptures of shell and rock, carefully-constructed seabed warrens, short, introspective poems carved into rock-shelves, and the gifts of wisdom which they pass on to friendly species they may meet. Many a tribe of Anura has been gifted with some insight into life by Uuluun wanderers, and many Eshal scholars note a similarity between the Anura ideals of honour and valour and the same ideals of the Uuluun. Uuluun are a mighty people, but they are, for the most part, nonviolent. It is true that Laiuufohohwuuth, the Black Uuluun, wreaked bloody havoc across the western portion of Tarrod for some 80 years before Eshal warriors slew him, and it is also true that Uuluun clans often attack Eshal and Lurdi settlements, but the Uuluun more often dispose of their violent energies through ritual wrestling and sport-fighting. All forms of Uuluun combat are unarmed- most Uuluun fight by grappling with their enemies, hoping that their hard skins, spiny portions, and incredible might will tilt the balance in their favor. Uuluun wrestling is brutal, truly a sight to behold. Nobody ever forgets the sight of two intertwined sea-dragons, smashing themselves against the sea-cliffs. Uuluun highly uphold the ideals of valour, honor, and martial skill. The perfect Uuluun, if ever a being such existed, would have deep insight and great wisdom, as well as a great sense of self, but they would also be strong, brave (though not thick-headedly so), and skillfull in battle. Uuluun are prone to feats of valour and heroism, though they are not stupid in this- they will not try to do something which is clearly beyond their means, or try to salvage an obviously lost cause. Uuluun Naming Conventions- Huuu, Hyuulwuu, Ohluu, Ahlyuuu, Ayuu, Kwuuuoh, Woh, Aiuulyoh, Uuohl, Ohohuumuu, et cetera
?
Maggot's Awards and Badges
Not Registered Yet? No problem.
Do you want Strolenati super powers? Registering. That's how you get super powers! These are just a couple powers you receive with more to come as you participate.
Upvote and give XP to encourage useful comments.
Work on submissions in private or flag them for assistance.
Earn XP and gain levels that give you more site abilities (super powers).
You should register. All your friends are doing it!
?

Responses (4)

Credit for this sub actually belongs solely to Captain Penguin. Way back in 2004 when Tarrod was still in its infancy, he generously created this race for the aquatic world that I was working on. Since they are such an important part of Tarrod as well as worthy creations in their own right, I thought they deserved to have their own sub to themselves on the main site.

Not a sea-creature to mess with.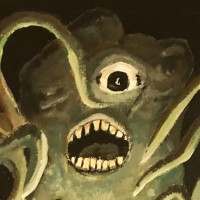 An interesting draconic race. I would like to know more about what motivates them - how would you incorporate them into an adventure?

I imagine the Uuluun could be cast as heroic figures who attempt to mantain an equitable balance where use of the sea's resources is concerned. They could also be cast as protectors of some primitive coastal tribe. Slave raids on such islanders by pirates or other nasties might provoke violent conflict.
" Expansion from the Horse Brass item: Specific Armor charms. Cooling Touch Charm: protects horse against extreme heat, and fire, magical and mundane Jove's Favor: tin charm shaped by a lightning bolt that protects a horse primarily from natural lightning, but also potentially from lightning based attacks. In real life, lightning kills quite a few horses and cattle a year. Hermes' Blessing: gold charm that grants the horse magic resistance, and perhaps immunity to cantrip level magics. Vulcan's Steed: This large iron charm in epic fashion renders the steed invulnerable to iron weapons. Such things clatter off of the animal's hide like twigs."
" <br /> The spirit of a creature trapped in amber cannot escape to it's afterlife / next incarnation / whatever. Such trapped spirits can be contacted by those who know the right rituals and magical power derived from them – typically the power to control one individual of that species. Can by quite powerful if the creature is a colony insect (ant, bee, wasp, etc) – simply control the queen and you command the whole colony."
" 'AIEEEEE! YAI-YAI-YAIEEEEEE!' Loud war-screams shatter the silence of the forest. The party, scrambling quickly over the thick forest floor, are ambushed by savage elves, dropping down from the trees and rock outcroppings. Their hair is cropped into mohawks and their arms are striped with tattoos. They attack, and scalp unfortunate victims."