Magick Firewall - A Simple Google Sheet Puzzle
This simple self-contained puzzle is a lock/gate built into a Google sheet. This "firewall" requires that the players input a magic square.
This puzzle is similar to Norton Mini - A Simple Google Sheet Puzzle. It is a little google sheet page that separates the players from the digital asset they are after. If they can figure out how to hack past it, then they can proceed along a revealed hyperlink to the next thing.
In this time of shelter-in-place, I have found myself using digital tools for social interaction. The online Google products, namely Docs, Sheets, and Slides, turn out to be particularly useful for designing little puzzles that players can engage with collaboratively.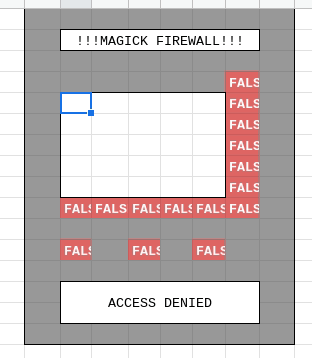 The "Magick Firewall" presents itself as a single sheet with a prominent "ACCESS DENIED" cell. Players can see a bunch of red FALSE cells. 
The solution requires that the players input a magic square. That is, a 5x5 square of digits using every digit from 1:25 exactly once, with every row, column, and diagonal summing to the same value.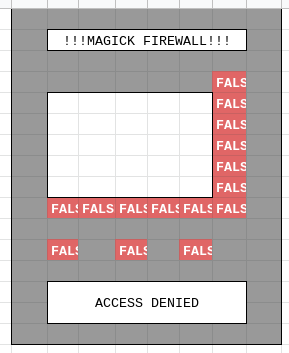 Different red cells check for different conditions. They light up green when their condition is met.
Players can use this information to figure out what to do.
Once a correct magic square is written in, the bottom cell turns to "SUCCESS!", which can have a hyperlink on it to move to the next digital asset (another google sheet, doc, or slide deck? Some other URL? Who knows?!)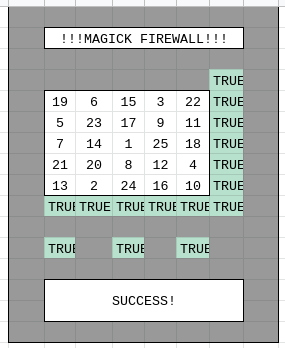 Introducing Magic Squares
Basically no-one can derive a magic square from scratch without help. That being said, if players are doing this online, they may be allowed to search for one. Other players may be programming savvy and could solve for one that way. Alternatively, a partially completed magic square could be hidden elsewhere in the play session, and the players could use that as a starting point.
Under The Hood
There really isn't much under the hood. Most of the logic is on the main sheet. 
There is a hidden sheet that gets referenced for the solution cell. If the magic square is correct, then the link below the mini points to the SUCCESS! cell (which has a hyperlink) instead of the original ACCESS DENIED cell. You can change the puzzle, change the text, change the hyperlink, etc.
Players can of course get too clever using Google sheet tricks to try to back out what is in this hidden sheet. As a DM it is up to you to what extent you want to lay down ground laws or let them "cheat".
Not Registered Yet? No problem.
Do you want Strolenati super powers? Registering. That's how you get super powers! These are just a couple powers you receive with more to come as you participate.
Upvote and give XP to encourage useful comments.
Work on submissions in private or flag them for assistance.
Earn XP and gain levels that give you more site abilities (super powers).
You should register. All your friends are doing it!
?

Responses (1)

These are great little side challenges and the fact that you give us everything we need is fantastic. Great idea!!!
" The punishment for a wrongful death is prison or paying for the funeral in full."
" To Dougles Nye money is power, a powerful wizard only newly into lich-hood Originally the son of servants to a noble family, yet he found that life humiliating. 'How could anyone stand to serve another?' he often wondered. His father, was a greedy man who offered an explanation one day 'It's all for the coin, every demanding, humiliating thing. It's for the coin, boy.' So when Dougles began developing the potential for magic, he found a way out of a life of servitude. Learning magic though stolen books, he made his escape. Taking the all the possessions of the lord's vaults with him. He set out to gain as much money as possible. His gifts for magic allowed him many advantages other merchants could only dream of. Capitalized on the use of deviation magic, allowing him to always having what the city he is in needs most, whether that is wheat or weapons, poison or drug doesn't matter to him. Some would say he follows war, disease, famine, and political strife like a vulture looking for a nice carcass to claim. What they don't know is he has a hand in the conflict he supposedly follows. Assassinating ruler to incite wars, casting spells that decimating crops, acting as an information broker to both sides in a conflict. Dougles is known as a man who can get what you need to some, to other a monster who capitalizes on the suffering of others. The lich know as Dougles Nye, prefers the title 'The Merchant of Death' for that shows just how much power money has earned him."
" The PCs are exploring the catacombs beneath a Colosseum-in-Rome type of structure, when they come across a foul-smelling, stagnant, ankle-deep with algae, public mass latrine. Countless urinals of marble, line this rather large chamber equally crafted of marble. Whatever system of plumbing once worked here, has not in many years. Old graffiti lines the stained,dirty walls, prominently bolded are such intellectual poetic musings as, 'Urine For It Now', 'I Pee Therefore It Comes' and 'Now Urine Trouble'. A few moments after the PCs get to take in this unpleasant location, they hear the low rumbling of ancient plumbing and rather large Urine Elemental rises like a great, wet, wave of filth to attack them. The creature reeks and exudes noxious debilitating fumes, while its liquid strikes burn flesh like acid."