Lord Ziranith
Lord Ziranith is descended from the first elf king Lord Wentinith. Leader of the elf population in Uni-mith.
Special Equipment:

When ready for war, he wears his ridged and randomly se spiked armor, his helm bears the angel wings and carries the magic broad scimitar, Ouvulailio, meaning faith wing

Appearance:

He is strong and tall, firmly built, he carries the characteristiques of an elf, though he is a high elf and has darker hair.

Background:

Lord Ziranith was only a lad when the invasion had started.
On on unusually cold summer night, Ziranith struggled and squirmed in his bed, though he could not sleep. He got out of his bed, the palace seemed eerie in the night as he left his room and made for the balcony. Outside, he looked up at the stars, he loved looking at the heavens, he thought should one look long enough at the sky, he would meet the gods. Then, it came or should I say they came, over fiftly burning balls. At first Ziranith thought they were shooting stars, though as his excitedment grew, it quickly faded, in the light of the burning rocks that flew towards the palace, Ziranith saw them. Thousands of orcs and ogres, woarg riders and troll mauraders, large catapults, the sources of the flying hell balls. The tower guard gave call as the monsters charged into their realm. the warriors of unimith, were indeed powerful, though they were hopelessly outnumberedin the battle. Ziranith was grabbed roughly by the arm, he turned to see a soldier, an elven soldier. Without aying anything, he was wisked off by this misterious warrior, outside. Three score of cavalry stood awaiting. "Where is my father?" demanded Ziranith angrily. "I have orders of the king." said the soldier that had brought him here. "This company is to escort you to Haléfas, you will be in the hands of your uncle Valanair." With that, the uni-mithian cavalry along with twelve warriors, two guardsmen and over a hundred and fifty civilians fled into the night led by Valanair. The battle at home was lost, the dead included Ziraniths own father. Now Ziranith has sworn revenge on the monsters of Undengrolk, the culprits of this treachery.

Roleplaying Notes:

He will be more than willing to aid you in attacking Undengrolk. His expertise in horse back and fighting techniques are greatly admired.
Not Registered Yet? No problem.
Do you want Strolenati super powers? Registering. That's how you get super powers! These are just a couple powers you receive with more to come as you participate.
Upvote and give XP to encourage useful comments.
Work on submissions in private or flag them for assistance.
Earn XP and gain levels that give you more site abilities (super powers).
You should register. All your friends are doing it!
?

Responses (4)

You're getting better. This one is much better than any of your other characters.

It is.

Oh, good, thank you.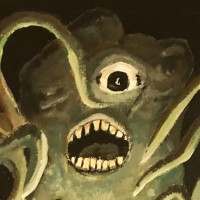 Needs some more polish I think. There are punctuation and spelling errors that need cleaned up.
" These magical boots empower the wearer with several abilities at once. Wondrous leaping, water-walking, and even flying! Yet the boots possess an insidious curse upon them as well. A deep and almost unfathomable (by others) feeling of listlessness, boredom, and even apathy affects the boots' wearer at all times whenever they are donned. Magic will not dispel the effects. And so while the wearer of the boots can perform great feats of action during combat or at other opportune times and key moments, they'll never really want to do so, complaining 'Meh, what's the point of it all anyway?' or 'I would fly up and save us all guys, but sigh, maybe uhm, soonish, mkay? Bit bored by this whole burning tower at the moment.' Naturally the boots wearer's fellow PCs will grow quickly frustrated with this arrangement. There have been numerous occasions when one angry PC literally tears off the boots from his companion's feet in anger, and dons them in turn, only to immediately suffer from the same effects. The solution lies in constantly 'motivating' the boots' wearer with successful rolls, involving threats, flattery, fiery speeches, or even bribery."
" '...The people of the Dalaben Fens have a custom heretical to our superior Zodashan faith, in which they place their dead upon the grass roofs of their stilt-houses. It is said that they do this because they used to bury their dead before the great Judgement, in which their home became the swamp which it is today.'-Sir Edrosh Metorva, 'The Barbarian Lands of the East, Volume X.'"
" Saril had a dream. To open a library in the windswept wastes of Naarish, so that the people of the many villages and towns spread over the hundreds of leagues of desert could discover the joys of his books. For a whole year he kept his library open, but alas, almost no one came. That is when Saril came up with his new idea. If people didn't travel to read his books, he would travel to them! Saril closed his library, hired a team of twelve camels, loaded up the beasts with all of his books and proceeded to invent the first nomadic library. Now children and adults alike, looked forward to hearing the bells of Saril's camels as he entered their villages, as he tirelessly traversed the deserts in a long circuitous route, visiting every village and town he came across, in turn. It came to pas that Saril's traveling library came to some fame, and that is how the folk of Naarish became literate. A word of warning though. Naarish has only six thousand volumes. He deals with those that lose or steal his tomes quite 'harshly', by bypassing the town or village which was responsible for losing one of his books for that calendar year."