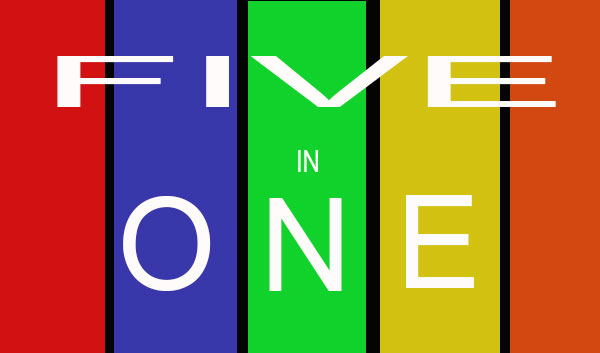 | | |
| --- | --- |
| Required Category | Mercantile |
| Required Tag | none |
| Status | Legacy |
| XP Bonus - Active | 15xp |
| XP Bonus - Legacy | 20xp |
| XP Bonus - First | 10xp |
| XP Bonus - Second | 10xp |
Quest - Five in One
The Five in One Challenge. The time to honor yourself will soon be at an end...Highness--Russ Crowe, Gladiator
The idea behind this Quest is to use five random submissions and craft one masterpiece from them. The point is to celebrate some of the forgotten posts of the past, dredge up favorites, and highlight your peers and colleagues' works.
Rules - Thou shall not use any of your own submissions.
-Thou shall have 1.5 months to craft your 5in1 submission. Yes, multiples are allowed. You cannot begin, until the Quest is officially posted on the main site (any hour now).
- The Five shall be picked randomly, ideally with the aid of Murometz, who will gladly generate them for you. However, those impatient of you may choose and contact any Citadelian of your preference, who shall thence produce them for you - the 'Random Submission' link on pretty much any page of the main Citadel being a good source. Refresh and enjoy.
- The chosen submissions shall not have a higher vote score than '4.5'. Even the seemingly less perfect submissions deserve love and companionship. Please, help them shine!
- (Optional) A sixth submission may be generated if you so desire, to swap it with another that you desire less.
Other than these guidelines, anything goes. The person who wins the Quest, will be awarded a set of customized Citadel-dice in addition to the usual laurels! If you can help it, try to avoid an epic novel.
---
Quest Winners
Name
Title
Type
XP
valadaar
Chards Folly
by: valadaar


A simple mission for a Dragon, but of course, nothing is ever simple with Dragons.

Plots
Mystical
Side-Quest
475xp
Scrasamax
Cinque-Parte Polygnostic
by: Scrasamax


Conosca abbastanza per essere impaurito, molto impaurito

Motto of Cinque-Parte Polygnostic

Locations
Establishment
Any
255xp
Official Submissions 4
Name
Title
Type
XP
Scrasamax
The Widerdonum
by: Scrasamax


The Right of Revenge, the Law of an eye for an eye, is also known as the Widerdonum, the repayment. Not debt burns as brightly or as painfully as that of vengeance

Princess Reisha

Plots
Duty
Single-Storyline
180
Chaosmark
Trapped in a Schemer's Web
by: Chaosmark


A random description pulls the players into the dangerous, scheming web of politics...

Plots
Coincidence
Side-Quest
170
manfred
She, the Sorrow of Despair
by: manfred


You say you have no place to go, friend? That you do not even know, if it is worth going anywhere? I hear there is a place where they might help you.

NPCs
Scenario Based
Mystical
135
Wulfhere
Beyond the Sea of Serpents
by: Wulfhere


In a land known only as legend, in a tower that could only be myth, beings of immortal evil wait for freedom. The Ones who Hunger for Pain are coming to give it to them.

Plots
Crisis
Single-Storyline
320